Take a Look at Halftone Brushes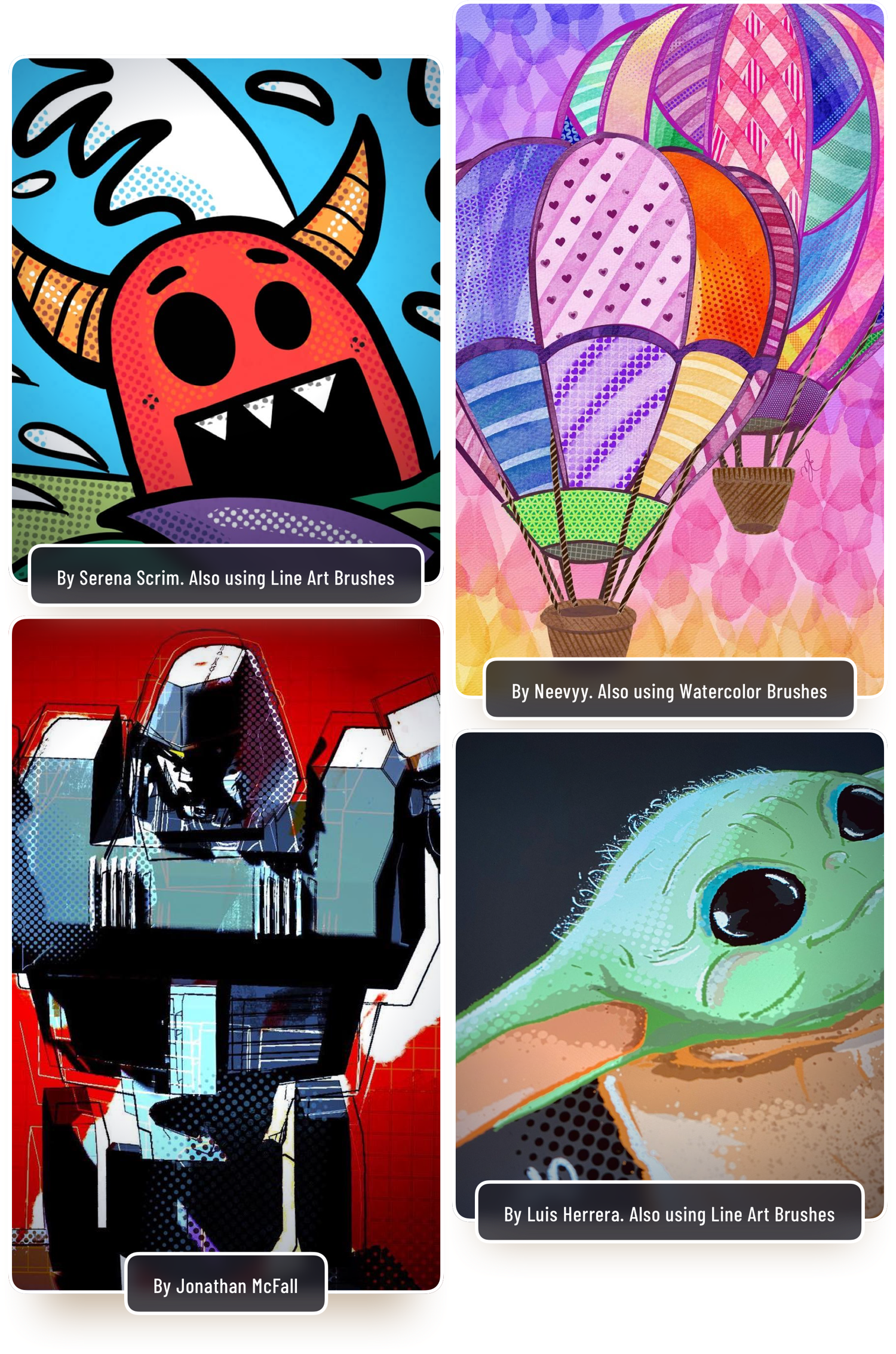 Halftone Brushes for Procreate
Choose from the available collections below:
Embark on a journey of artistic expression with our Halftone Brushes! Unlock the unique charm of halftone patterns and effortlessly infuse your digital artwork with a touch of vintage elegance.
With just a few brush strokes, you can easily apply charming stylistic vibe to your project. Explore a wide range of patterns, embracing the interplay of both pressure-sensitive and non-pressure-sensitive brushes. Unleash your creativity and witness your art flourish in remarkable ways! 
Available Brush Sets
Choose the FULL Bundle to get all 109 Halftone Brushes, or select one of the available collections.
Motifs: 25 hard shading, non-pressure sensitive Halftone Brushes.
Basics: 30 pressure sensitive brushes, including Soft, Hard & Gradient shading versions.
Extended: 54 alternative pressure sensitive brushes, with Soft, Hard & Gradient shadings.
Features & Specs
High-Resolution Halftone Brushes for shading & rendering. They look great even on print quality canvas!
Brush Set files (.brushset), for use on Procreate App.
Pressure Sensitivity on BASICS & EXTENDED Sets, so you control halftone density on every brushstroke!
Seamless, Clean & Fully Scalable Patterns.
Soft, Hard and Gradient brush shapes for every halftone pattern (on BASICS & EXTENDED Sets).
100% original shapes and grains.
Major enhancements in Version 2.0: the new Offset Jitter setting is available on Procreate 5, and now every brush is setup to draw correctly aligned patterns by default. 
Reset brush button enabled to revert brush settings anytime.
User Guide included (PDF).
Buy once, and get available updates forever!
Make great artworks with great art supplies!
---
Thanks to Jorge Lobo for product visuals.
---